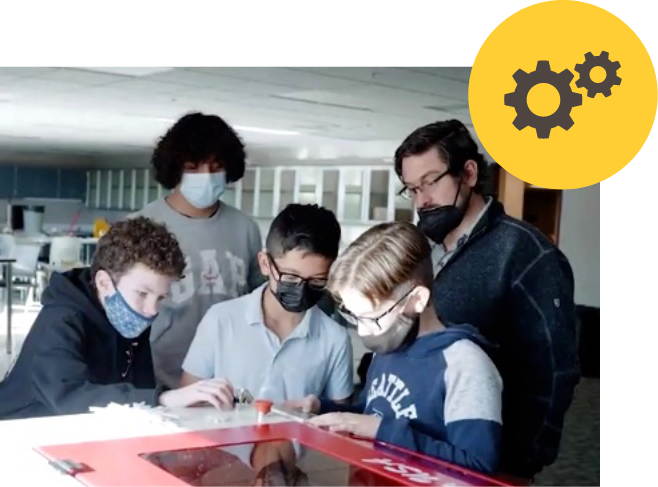 STEM - Engineering
Are you interested in working with your hands and building things?
Students in this pathway participate in hands-on engineering and manufacturing activities and projects. You'll learn the foundational skills needed to design products, safely operate a wide variety of tools and machines, and assemble parts to bring your ideas to life. Students will continually build upon the skills they develop, adding in industry certifications, worksite experience, and ultimately work in a registered apprenticeship. With these skills students can move right into the workforce as a CNC operator, earn certifications or two-year degrees to become technicians, or go to a four-year university to become an engineer.
Skills you'll learn in this program
Application of the engineering and design process to various problems and products
How to use CAD (Computer Aided Design) to create drawings, designs to be made on various machines
3D printer set up, troubleshooting, and operation
Laser cutter/engraver set up, troubleshooting, and operation
File creation, equipment set-up, and operation of CNC (computer numerical controlled) routers, mills, and lathes
How to safely use various tools and equipment including: hand tools, tape measures, saws, drills, table saws
Safe and proper welding/cutting techniques using GMAW, SMAW, Oxyfuel, and Plasma.
Explore career options in science, technology, engineering, math, manufacturing, aerospace, and related fields
Develop and improve employability skills, such as communication, leadership, and positive work habits
Critical thinking and troubleshooting
Career Options & Salary Range
The wonderful thing about this field is that you have an array of career options to consider. Whether you want to dive right in after high school, or continue on to get your doctorate degree you'll hopefully find a path that you are passionate about. Below are some careers that might be open to you if you pursue STEM – Engineering at the Innovation Center.
High School Diploma or Equivalent
Grinding, Polishing, Assembly Worker
Production Worker
Welder
Carpenter
Average Salary:
$38,000-$66,100
Vocational School, On-the-Job Training or Associate Degree
Woodworker
Aircraft Assembler
Machinist
CNC Tool Operator
Tool and Die Maker
Industrial Machinery Mechanic
Aircraft Mechanics and Service Technician
Electrical and Electronic Technician
Engineering Technician
CNC Tool Programmer
Computer Tool Programmer
Power Plant Operator
Average Salary:
$52,600-$102,400
Bachelor's Degree
Aerospace Engineering/Operations Technician
Agricultural Engineer
Mechanical Engineer
Industrial Engineer
Electrical Engineer
Aerospace Engineer
Average Salary:
$86,100-$133,800
Bachelor's and Advanced Degrees
Material Scientist
Architectural and Engineering Manager
Average Salary:
$119,200-$160,200