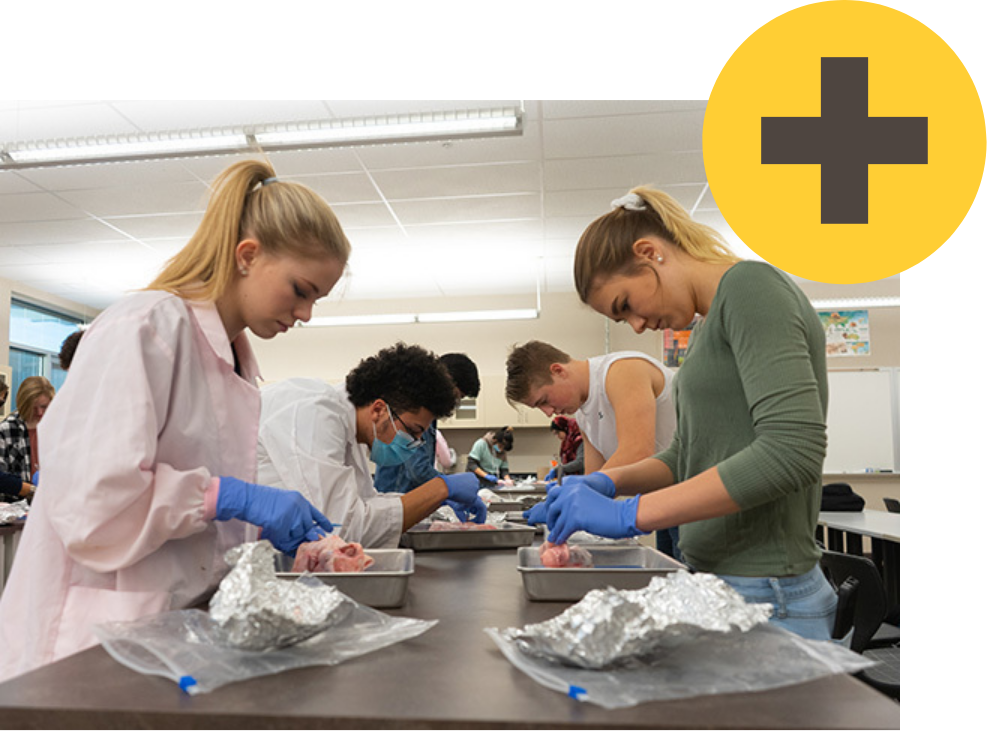 Health Science
Are you someone who has always loved helping others?
A career in Health Science holds an array of possibilities to help people and make a lasting impact. Whether you specialize in sports medicine or strive to become a physician, the Health Science program will help teach you the skills you need to succeed. Students in this pathway will have the opportunity to get industry specific certifications such as a first aid/CPR certification, food handlers license etc.
Through the application of skills specific to health science students will also have the opportunity to meet grade level and subject specific standards in a self-paced applied learning environment. Students in this pathway will ultimately be able to obtain a registered apprenticeship and a high school diploma.
Skills you'll learn in this program
Learn First Aid, CPR/AED and how to take precautions to prevent the spread of bloodborne pathogens
Learn Sports Medicine techniques such as injury prevention and evaluation, and rehabilitation
Learn techniques such as taping, bracing, and wrapping for various injuries
Learn about nutrition and create nutrition plans
Develop and improve employability skills, such as communication, leadership, and positive work habits
Explore career options in the healthcare field
You will have the opportunity to deepen your knowledge in Anatomy and Physiology, a prerequisite for most careers in medicine
Hands-on healthcare skills
Career Options & Salary Range
The wonderful thing about this field is that you have an array of career options to consider. Whether you want to dive right in after high school, or continue on to get your doctorate degree you'll hopefully find a path that you are passionate about. Below are some careers that might be open to you if you pursue Health Science at the Innovation Center.
High School Diploma or Equivalent
Pharmacy Aide
Dental Lab Tech
Average Salary:
$36,500-$50,500
Vocational Training, Related On-the-Job Experience, or Associate Degree
Fitness Trainer
Health Information Technologists/Registrar
Average Salary:
$57,100-$65,000
Associate Degree
Physical Therapist Assistant
Bachelor's Degree
Community Health Worker
Athletic Trainer
Medical and Clinical Lab Technologist
Bioengineers and Biomedical Engineer
Average Salary:
$47,000-$97,100
Bachelor's and Advanced Degrees
Physical Therapist
Registered Nurse
Psychologist
Veterinarian
Chiropractor
Nurse Practitioner
Physician Assistant
Pharmacist
Dentist
General Internal Medicine Physician
Anesthesiologist
Orthodontist
Average Salary:
$92,000-$282,700