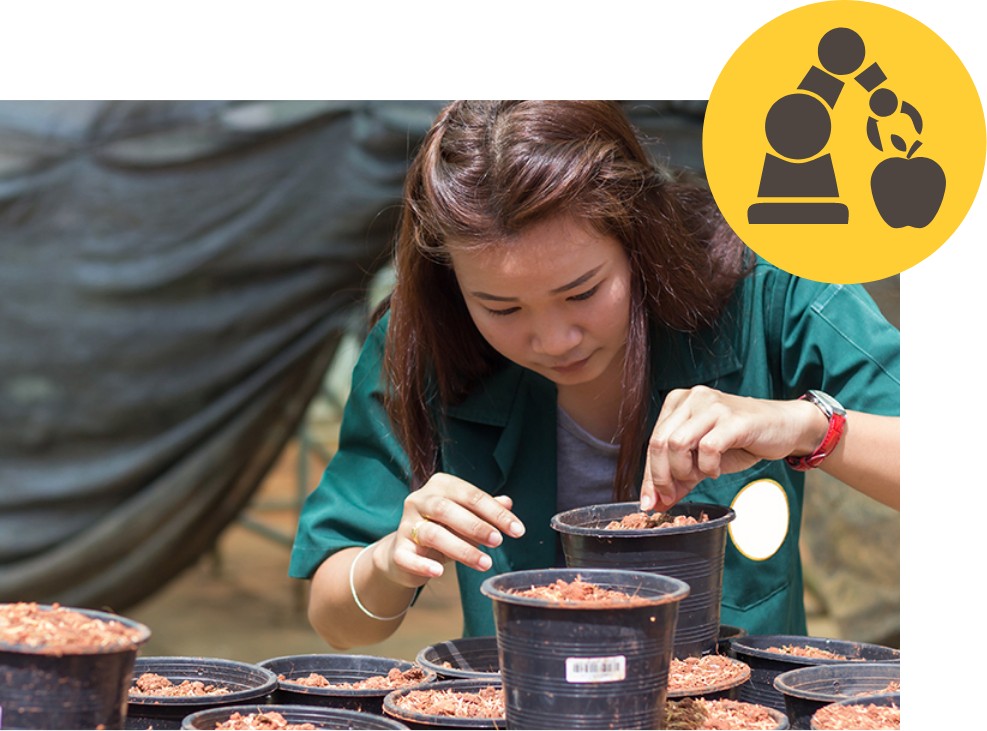 Robotics and Agriculture Science
Are you interested in discovering and building ways to improve the way we grow food and feed our community?
Agriculture is a booming industry right now, specifically within the robotics field, with a trajectory of tremendous job growth over the next decade. Students in this pathway will study robotic and agriculture and specifically how the robotics industry is being used in modern agriculture. Students in this pathway will obtain industry aligned certifications.
Through the application of skills specific to robotics and agricultural science students will also have the opportunity to meet grade level and subject specific standards in a self-paced applied learning environment. Students in this pathway will ultimately be able to obtain a registered apprenticeship and a high school diploma.
Skills learned
Build a foundation of knowledge in animal science from animal behavior to genetics and health and learn how this knowledge applies to today's livestock industries
Build a foundation of knowledge in plant and crop science from the basics of plant growth to the complexities of soil and horticulture
Understand current issues and regulatory hurdles related to these fields and discover career pathways into agricultural fields that interest you
Career Options & Salary Range
The wonderful thing about this field is that you have an array of career options to consider. Whether you want to dive right in after high school, or continue on to get your doctorate degree you'll hopefully find a path that you are passionate about. Below are some careers that might be open to you if you pursue Robotics and Agriculture Science at the Innovation Center.
High School Diploma or Equivalent
Farmworker and Laborer
Floral Design
Landscaping and Groundskeeping Worker
Average Salary:
$33,400-$41,000
Vocational Training, Related On-the-Job Experience, or Associate Degree
Vet Tech
Ag Inspector
Diesel Mechanic
Average Salary:
$43,000-$64,272
Associate Degree
Veterinary Assistant and Technician
Food Science Technician
Agri Business
Average Salary:
$40,000-$91,602
Bachelor's Degree
Animal Scientist
Forester
Food Scientist
Fish and Game Warden
Ag Engineer
Ag Econ, Ag Hort
Average Salary:
$62,000-$111,300
Bachelor's and Advanced Degrees
Soil and Plant Scientist
Zoologist and Wildlife Biologist
Veterinarian
Average Salary:
$80,500-$104,000