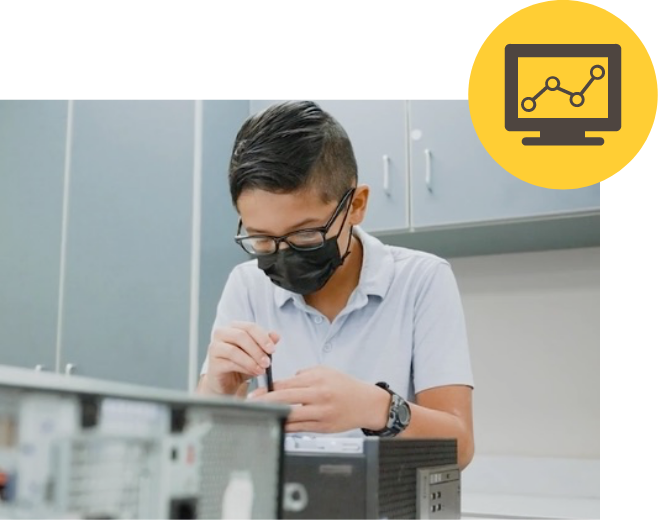 IT and Computer Science
Do you love technology and want to hone your skills?
Information Technology is a leading field in today's changing world. Whether you want to build websites or play at IT support role for an organization, you can get training and earn certifications in an array of Microsoft certifications. Go deeper and learn advanced topics including programming and web development. Find out how you can be part of technology's advances in Information Technology and Computer Science. Students in this pathway will have the opportunity to get Microsoft Certification and other IT industry specific certifications.
Through the application of skills specific to Computer Science and IT students will also have the opportunity to meet grade level subject specific standards in a self-paced applied learning environment. Students in this pathway will ultimately be able to obtain a registered apprenticeship and a high school diploma.
Skills you'll learn in this program
Gain an in-depth understanding of computer science
Learn to think critically and troubleshoot
Master programs and earn certifications
Career Options & Salary Range
The wonderful thing about this field is that you have an array of career options to consider. Whether you want to dive right in after high school, or continue on to get your doctorate degree you'll hopefully find a path that you are passionate about. Below are some careers that might be open to you if you pursue IT and Computer Science at the Innovation Center.
High School Diploma or Equivalent
Coin, Vending, or Video Game Repair
Vocational School, Related On-the-Job Training, or Bachelor's Degree
Medical Appliance Technician
Computer User Support
Average Salary:
$44,700-$63,400
Vocational School, Related On-the-Job Training, or Associate Degree
Technical or Bachelor's Degree
Bachelor's Degree
Computer Network Support Specialist
Information Security Analyst
Database Administrator
Computer Hardware Engineer
Computer and Information Systems Manager
Computer Programmer
Average Salary:
$90,900-$180,000